Wedding Car Hire Rochester Kent
Wedding Car Hire in Rochester Medway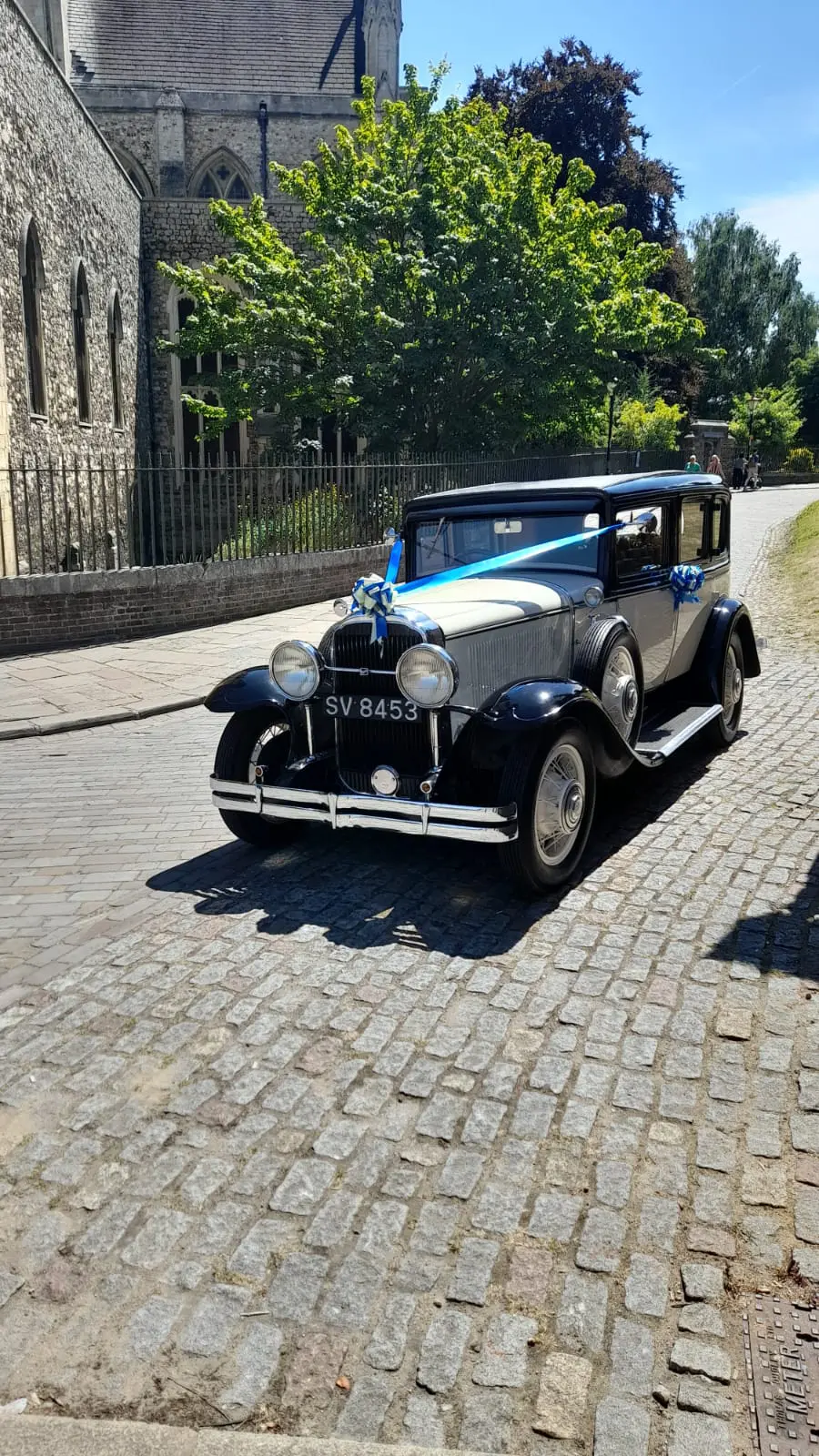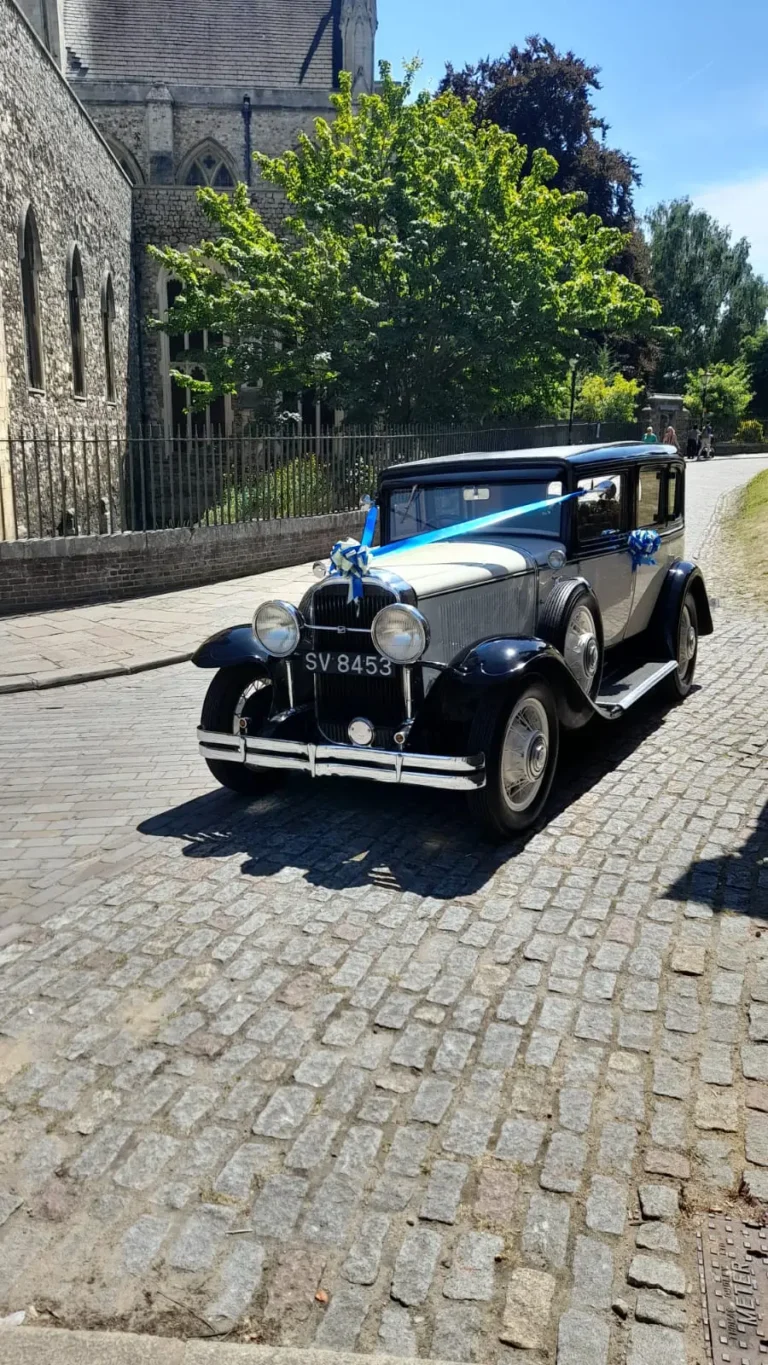 Rochester's Luxury Wedding Car Hire Company
Special Events Hire provide wedding car hire in Rochester Medway Kent offering vintage & classic car rentals.

A variety of Rochester Cars available to choose from, so you can find the perfect hire car to suit your style.

Whether you want something classic & elegant or something more vintage & unique, we have the ideal Rochester car hire.
Rochester Wedding Car Hire in Medway Kent
Hiring a wedding car can also provide an excellent opportunity for photos. The historic streets and buildings of Rochester make a beautiful backdrop for photos, and the wedding car itself can make a stunning focal point. If you are looking for a way to add a touch of luxury to your wedding day, consider one of our luxury vehicles.
If you are looking for a truly romantic setting for your wedding, look no further than Rochester in Kent. Its medieval castle and picturesque riverfront make the perfect place to exchange vows. What could be more romantic than arriving at your ceremony in a luxury vintage wedding car?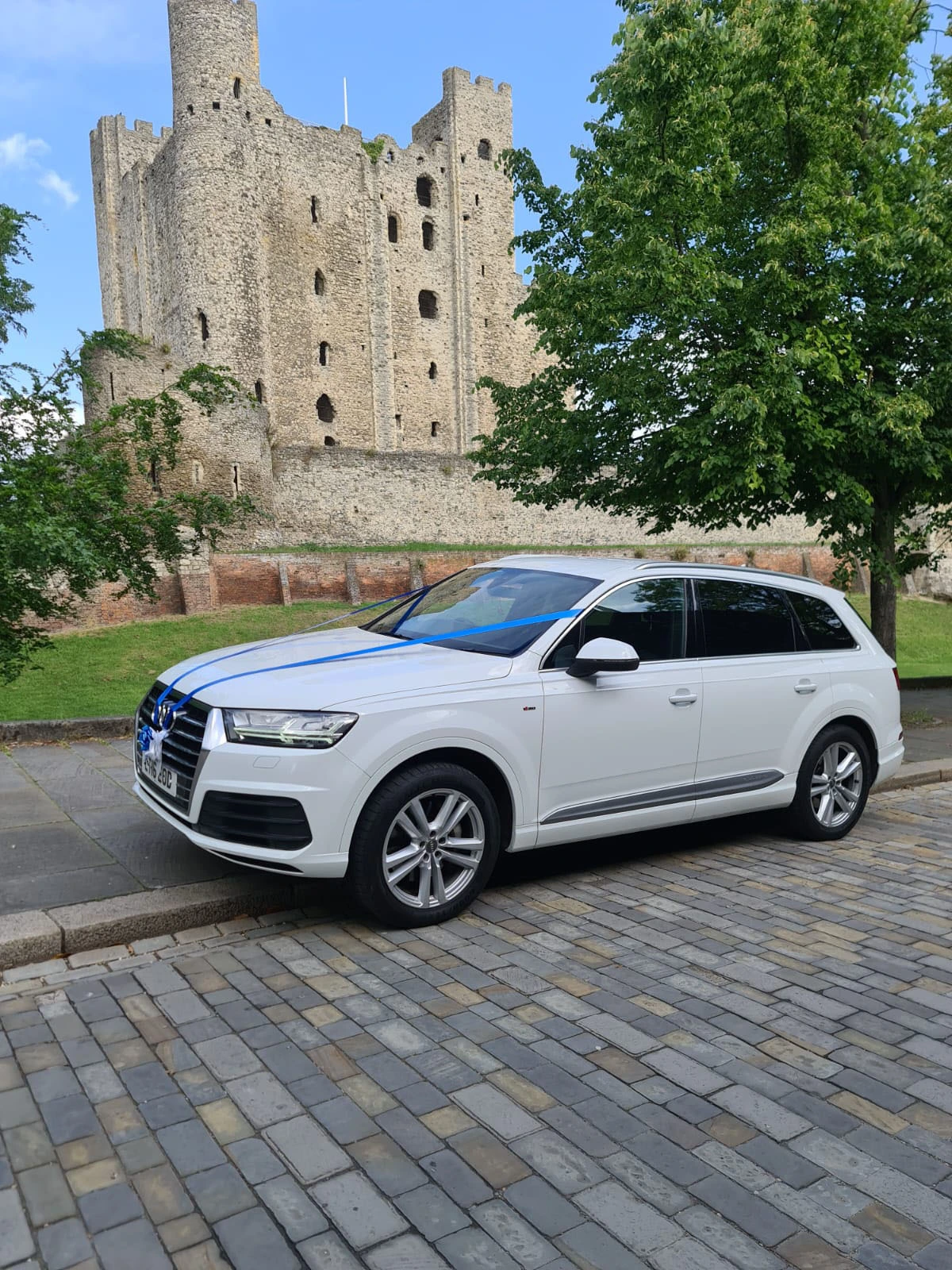 With its quaint charm and historic landmarks, this is the perfect place to have a romantic wedding.
Rochester Wedding Car Rental
Having the perfect wedding car rental in Rochester will ensure there will be plenty of photo opportunities to be had. Whether you are posed in front of the historic cathedral or capture a moment of intimacy by the river, you are sure to have a wedding album that's full of cherished memories.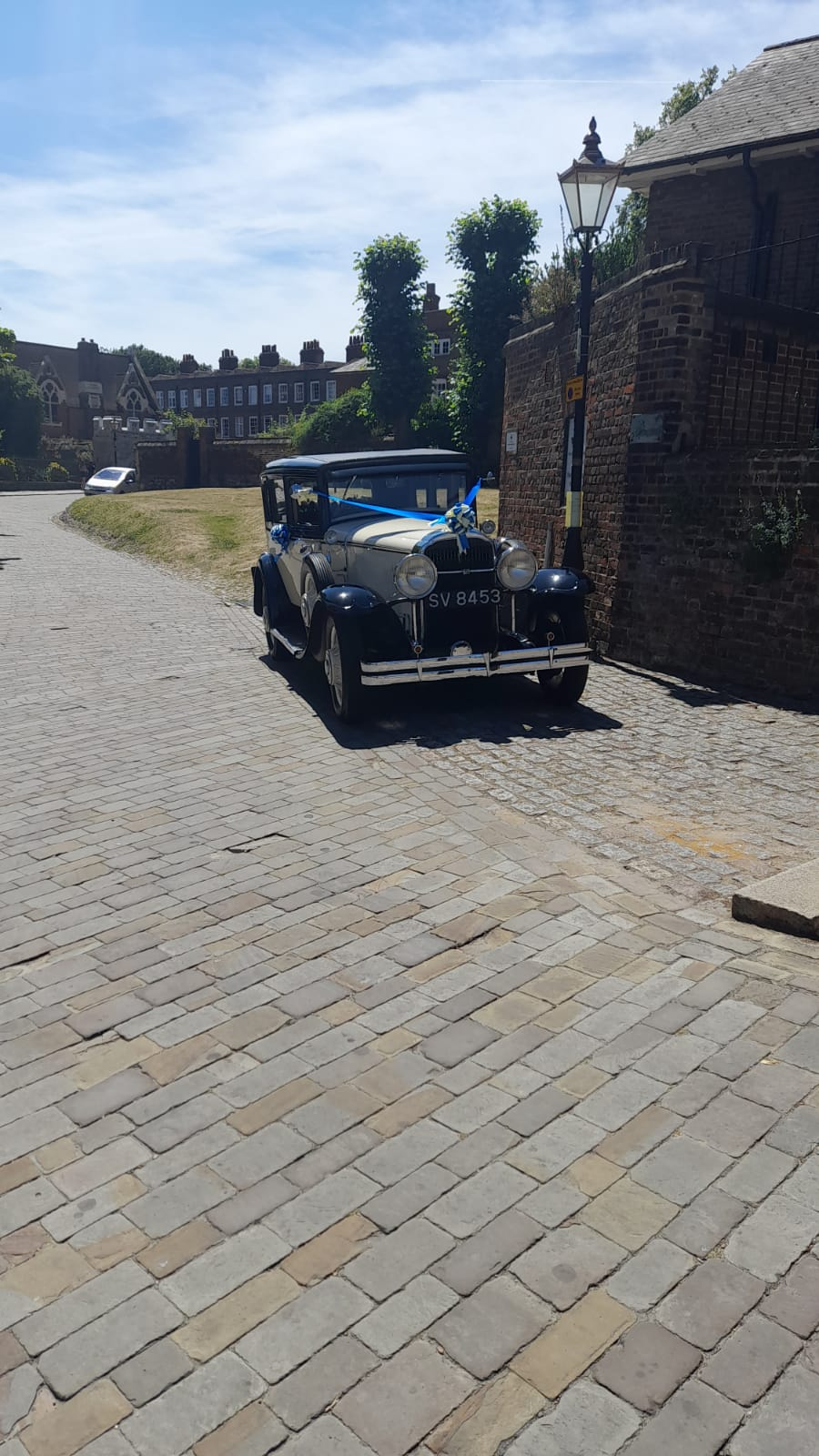 Rochester in Kent is home to many beautiful wedding venues, perfect for couples looking to tie the knot. One of the most popular is Rochester Castle, which offers stunning views of the River Medway.
Rochester Castle stands as one of the most magnificent medieval castles in England. With its massive keep and impressive defensive walls, it is easy to see why this Rochester landmark was once an important stronghold against attack.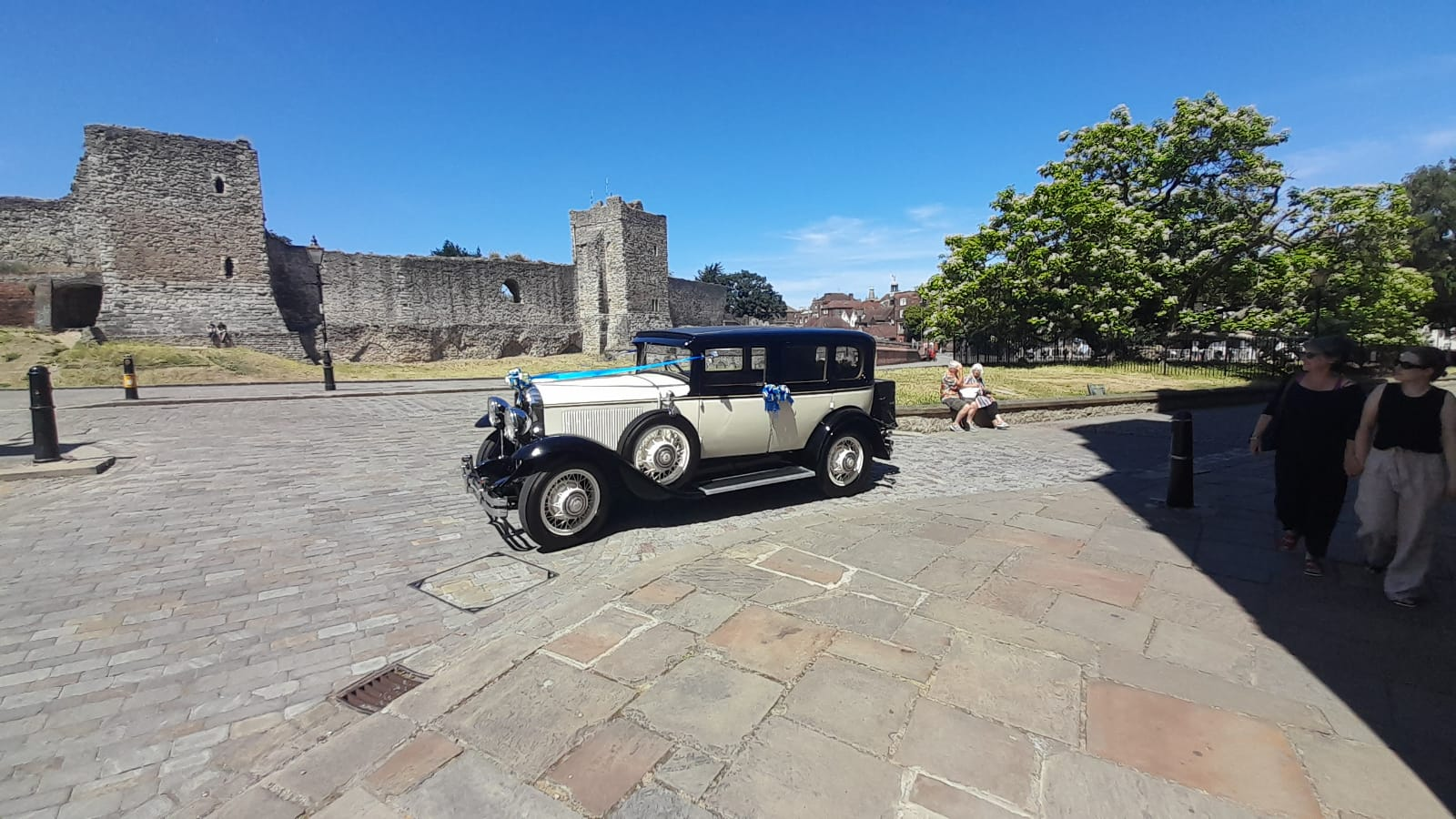 Rochester an Iconic Wedding Location
Today, Rochester Castle is a popular tourist destination, visitors come from around the world to marvel at its grandeur. The castle is often used as a filming location for many movies and television shows, including the recent blockbuster hit, Transformers: The Last Knight.
If you are planning an event in Rochester, allow plenty of time to explore all this historic site offers. From the imposing Great Tower to the atmospheric dungeons, there is much to see and do at this iconic venue in Rochester.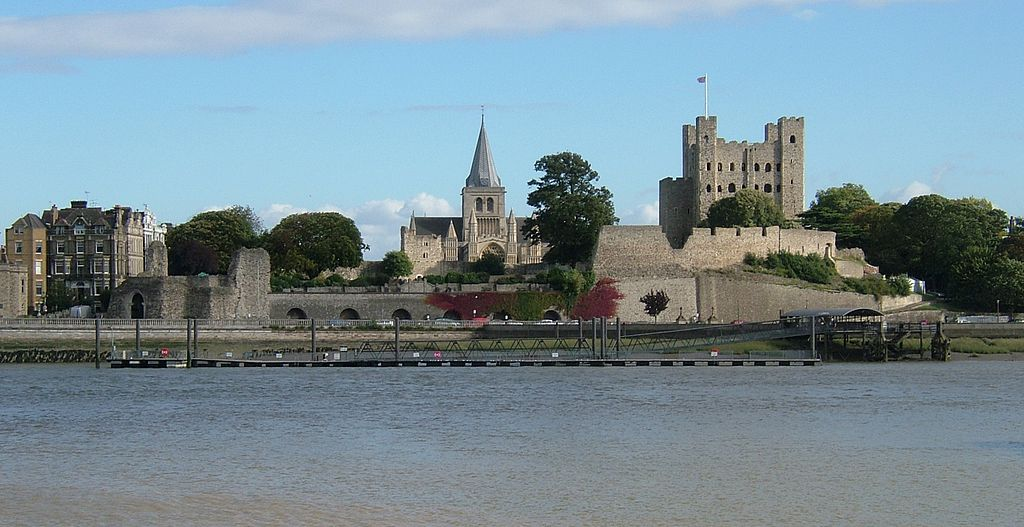 Rochester Wedding Venues
Whether you are visiting Rochester for its historical importance or fairy-tale beauty, you will indeed be enchanted by this area of Kent.
There are a variety of wedding venues to choose from in this Medway Town of Rochester Kent. Here are some of the most beautiful settings for your wedding car rental.
This historic building dates back to the 14th century and offers a unique setting for your big day. It boasts a fantastic riverfront location as the ideal setting to take pictures with your Rochester car rental.
For couples who want a truly regal experience, getting married at this medieval cathedral is a must. The grounds offer breath-taking views and make for some great photos with your wedding hire car.
With its majestic architecture and stunning interiors, this cathedral is a popular choice for couples looking for a traditional venue with a wow factor.
If you are looking for a fairy-tale setting for your big day, Rochester Cathedral is sure to fit the bill. This stunning cathedral has been used as a filming location for many movies and TV shows, including The Canterbury Tales and the BBC's adaptations of Edwin Drood.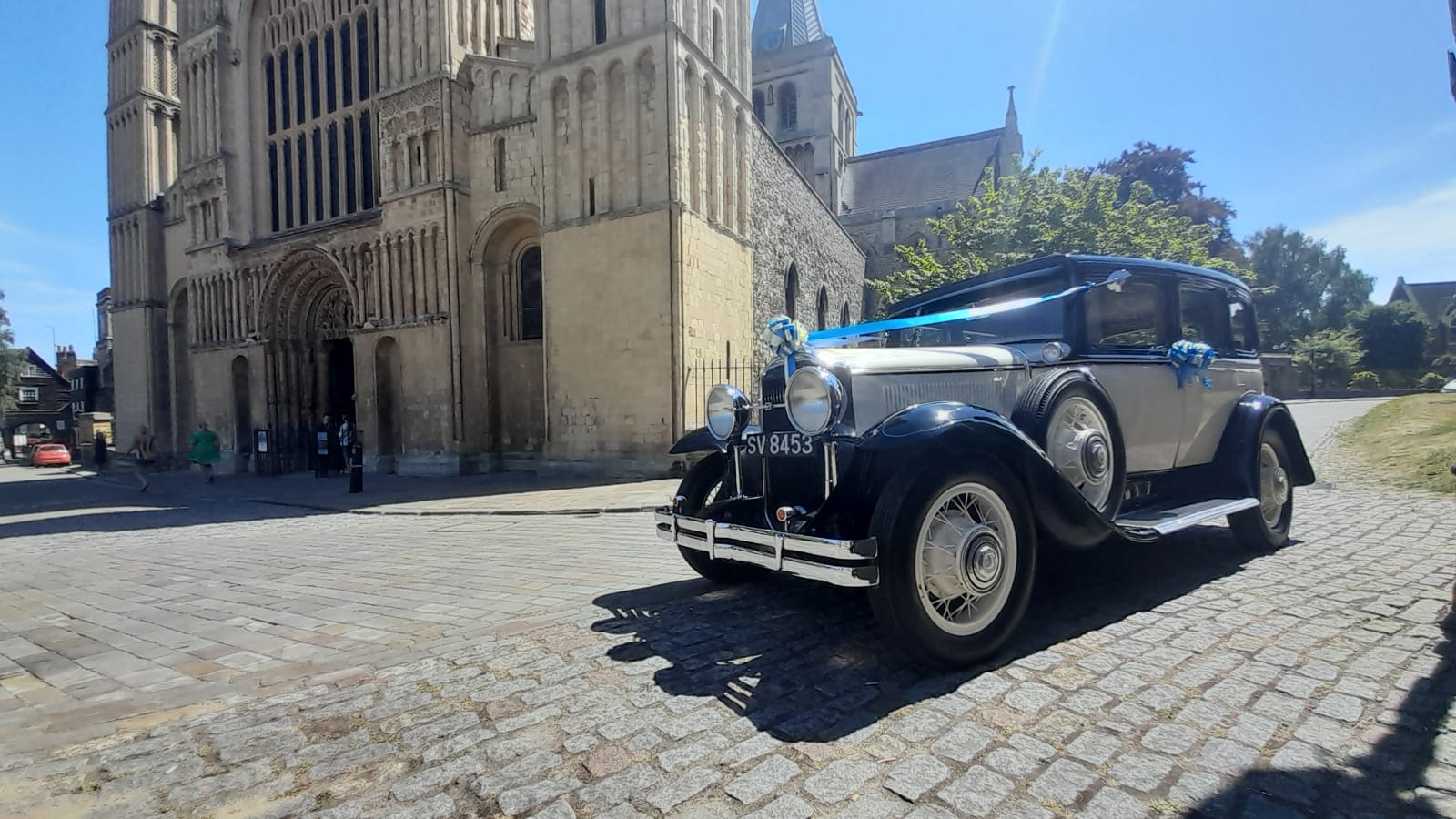 Another Castle on our list, Upnor Castle is a beautiful Tudor-style building set on the banks of the River Medway. It's the perfect venue for an elegant and romantic wedding.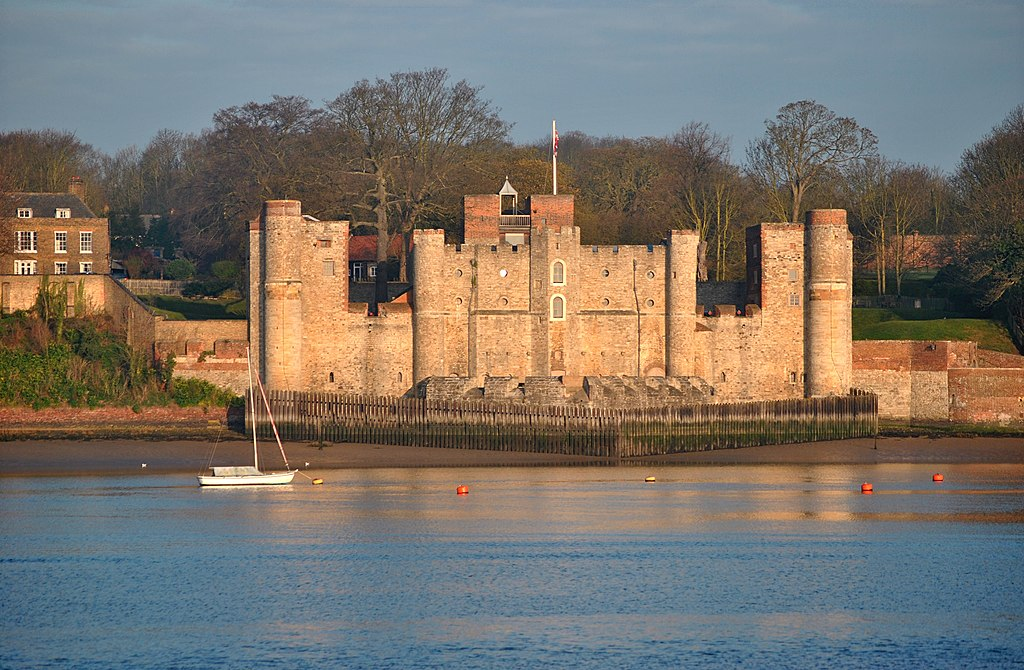 Location Information on Rochester Medway Kent
Rochester is a town in the county of Kent, England. It lies on the River Medway in the south-east of the county, about 30 miles (50 km) from London and has a population of over 62,000 people.
The Diocese of Rochester, founded in 604 AD by King Ethelbert of Kent, includes one of England's oldest cathedrals and is the second smallest in terms of land area after that of Truro.
Rochester Bridge, which spans the River Medway, is one of the oldest bridges in England. First built in 1162 and rebuilt in 1285 then again in 1856; today it is a Grade I listed building.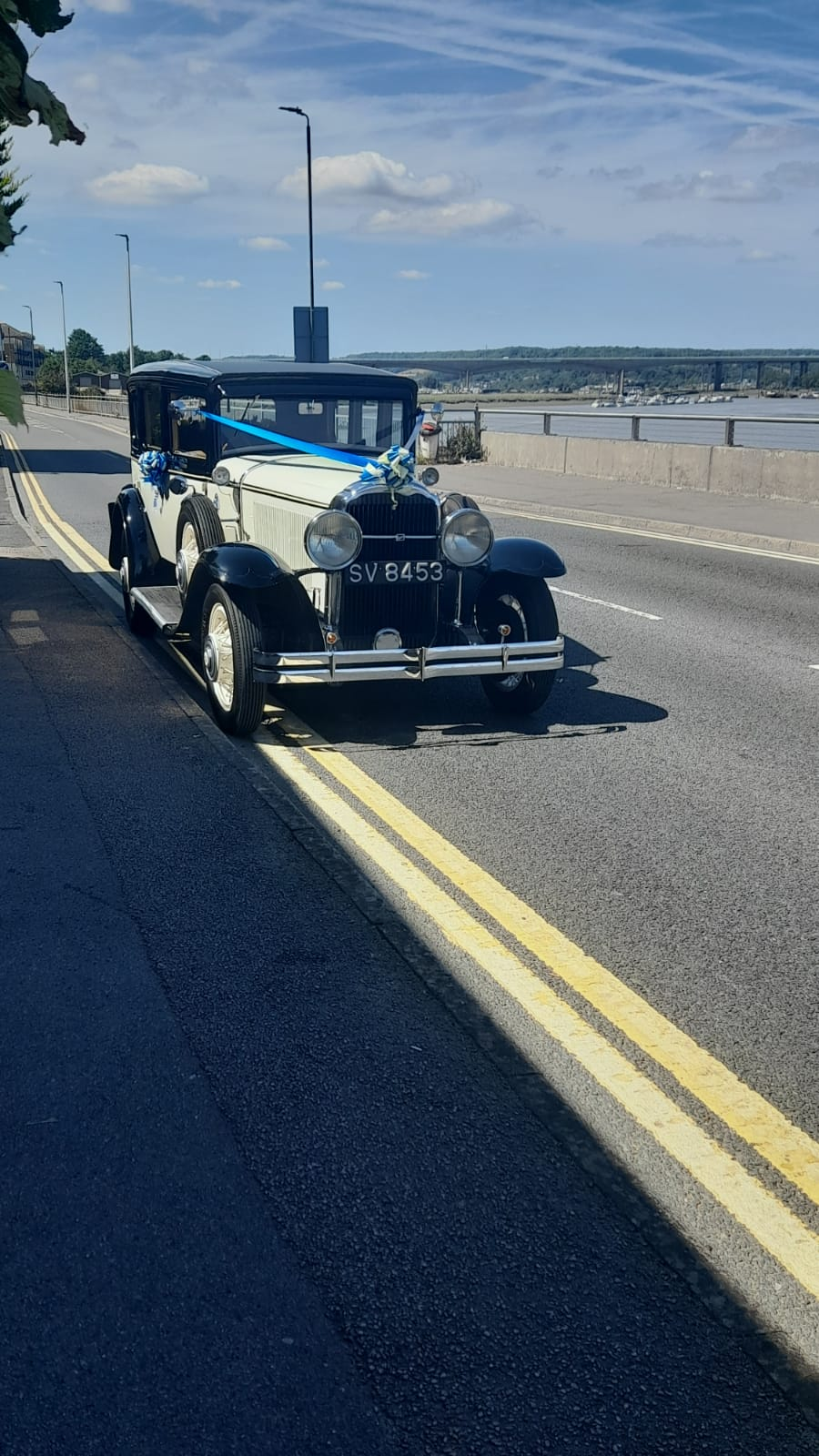 Rochester Town of Medway
Rochester has close connections with Strood, a large town to its north, separated by the River Medway.
These two towns, together with Chatham, Rainham & Gillingham, form a larger urban area known as the Medway Towns, with a population of about 280,000.
The Borough of Medway
Rochester lies on the south bank of the River Medway and is the administrative centre of the Borough of Medway.
The urbanised area that extends beyond the borough boundaries includes Twydall to the north, Hoo to the east and Walderslade and Lordswood to the south.
The town is twinned with Rochester, Minnesota in the United States.
Rochester Today
Today Rochester is a popular tourist destination with a number of historic buildings and attractions.
Rochester Castle, one of the largest and best-preserved Norman castles in England, dates from 1067 and stands on the east bank of the Medway overlooking the town.
The castle was built by William the Conqueror's half-brother, Odo of Bayeux, and played an essential role in Kent's defence against external and internal threats. 
The keep, or great tower, is the oldest part of the castle and would originally have been three or four storeys high at 113 feet (34.4 metres), it now stands at about 60 feet (18 metres). 
Rochester Car Hire Locations
Rochester Cathedral, located in the city centre, is one of the oldest and most important churches in England. The cathedral church was founded in 604 AD by King Ethelberht of Kent and rebuilt in 1080 by William the Conqueror. 
Extensively restored and enlarged over the centuries and today is a fine example of Norman architecture. The cathedral is home to an important collection of medieval manuscripts known as the Rochester Bestiary.
The Guildhall, another of Rochester's historic buildings, dates from around 1480 and was once the seat of local government. Today it houses a museum devoted to the history of Rochester and its surrounding area.
The Charles Dickens Centre is a museum dedicated to the life and work of the famous Victorian author who was born in Rochester in 1812 and set several of his novels there. The centre contains a collection of Dickens-related artefacts and interactive exhibits that bring his stories to life.
Kyp's Island is a small island situated in the River Medway just upstream from Rochester Bridge. The island is home to many rare plants and animals and is designated as a Site of Special Scientific Interest.
Rochester is also home to several parks and gardens, such as Rochester Riverside Park, Brook Gardens, and Eastgate Gardens.
Rochester History
Rochester has a long and rich history dating back to Roman times. The town's strategic position on the River Medway made it an ideal base for the Romans when they invaded Britain in 43 AD.
They built a legionary fortress at the site, which soon became known as Durobrivae 'stronghold by the water'.
The Saxons settled around Rochester after the Romans left Britain in 410 AD. The town was initially known as Hrofaester 'stronghold on the River Rother' and later as Rocencestre 'fortified town on the River Medway'.
Today, Rochester is a thriving market town with plenty of character and idyllic settings for your special event.
Rochester Location Mini Guide
The nearest major airport is either the Gatwick airport, about an hour away or London City airport, about the same distance south.
Traveling by rail is easily possible from London stations, and car rentals are available for those arriving with public transportation. We are proud to offer luxury wedding car hire in this bustling area on the Kent Coast.
Special Events Hire Wedding Car Hire Company in Rochester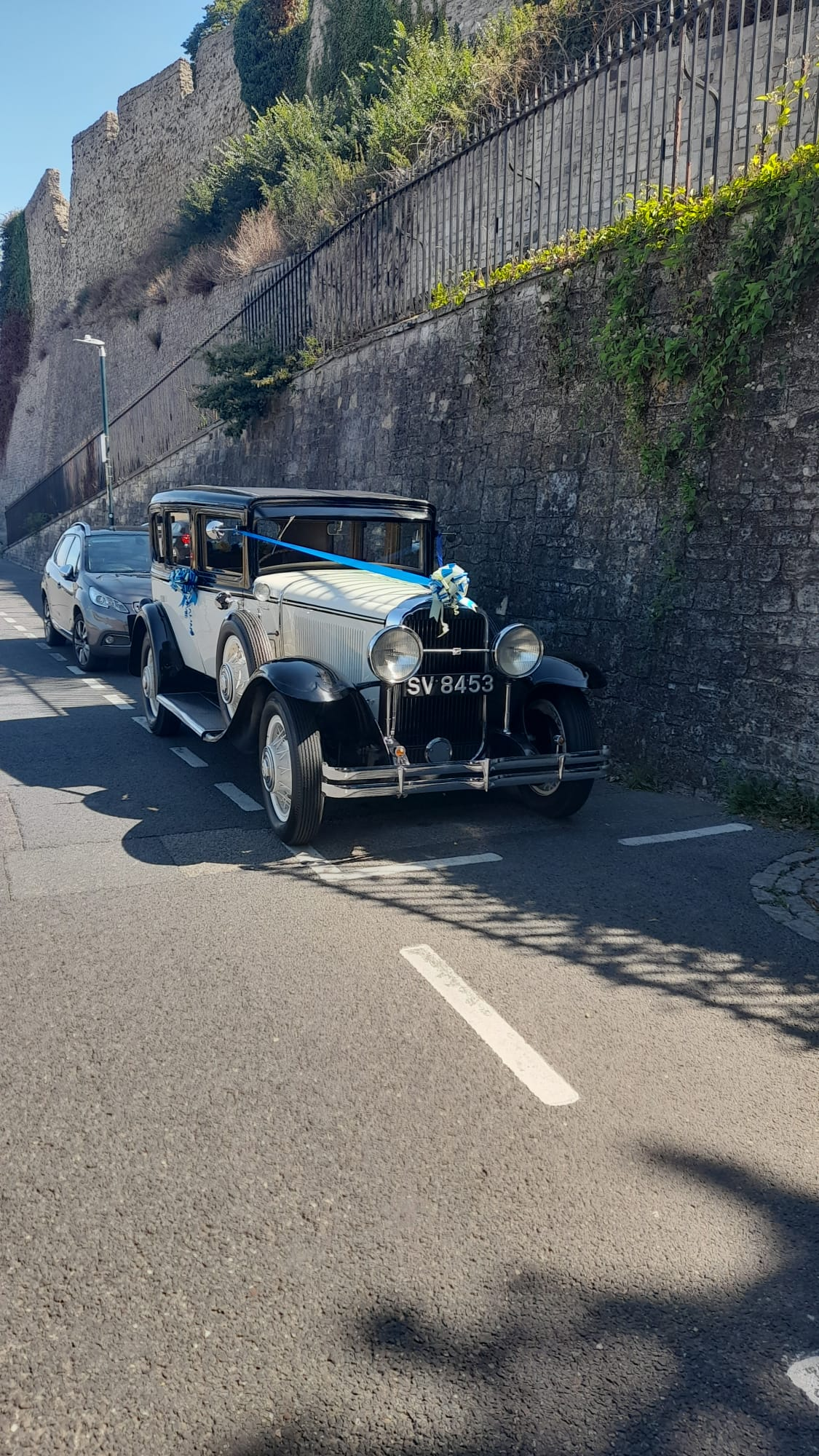 We have luxurious & unique types of wedding cars available at competitive car hire prices. Choose the perfect Rochester car hire to suit your theme and budget. Get in touch with us now for average price and availability or to reserve one of our wedding cars for your special event.
Special Events Hire is a Rochester car hire company with an exceptional fleet of rental cars to choose from and service many car hire locations, so you can be sure to find the perfect wedding car in Rochester.
View our available chauffeured cars for hire to find your dream wedding car today.
Special Events Hire Wedding Services Rochester Kent
High-quality car rentals and a 5-star wedding service in Rochester Medway and surrounding areas of Kent. Find the most elegant luxury cars in the United Kingdom right here.
Lavish classic bridal cars of the 1930s & 1970s. Hire iconic automobiles from companies including Rolls Royce & Daimler Limousines.
Classic Wedding Car Hire for a Memorable Wedding
When you leave the church or wedding venue in one of our classic wedding cars, your guests will enjoy a spectacular, traditional and classic car show. This is the place where many photos are taken, the pictures which people will remember forever after the wedding.
As you exit the church, you will be greeted by your chauffeur at the entrance of your luxury wedding car. During the journey, you can meet the photographer and take beautiful photographs. These can take place at the many beautiful viewpoints found in Kent UK.
Our team will take care of delivering only the highest quality special events service near you. 
We have the perfect classic style and vintage style transport options to suit everyone in our collection of vehicles.
Find your dream wedding car in our selection of luxury cars. All of our products are available at affordable prices. We specialise in traditional, classic cars and modern cars and unique wedding car designs from Rolls-Royce, Daimler and other brands.
View our available chauffeured cars for hire to find your dream wedding car today.
We do not provide prices online as each special events hire will be specific depending on the destination, reception location and any optional extras or services required.
Contact us today for availability and prices.
Deposit to reserve the date
A deposit of £100 is required prior to the day of your special events hire to reserve the date of your booking.
Special Events Hire is a luxury wedding car hire company that offers exceptional, unique and prestigious vehicles. Affordable and luxurious traditional chauffeur-driven cars from excellent brands such as Daimler, Buick, Audi & Rolls-Royce. Whatever vehicle you desire for your dream car, we are sure to have the perfect wedding car available at competitive rates in Medway Kent, UK.
The provider you can trust
All of our wedding cars are meticulously maintained to the highest standard in the UK. All of vehicles receive regular servicing and are fully insured and MOT certified.
All cars booked with us are chauffeured by an experienced smartly dressed driver.
In case of any problems with our cars on the day of your event, we guarantee to provide a backup vehicle with no effect to the itinerary agreed upon. Decorated in matching ribbons and bows, polished & ready to ensure you arrive on time & in full splendour if anything were to happen.
Wedding Car Hire Rochester Kent
"Special events made my wedding day perfect. We hired the silver shadow rolls Royce for our wedding car . I was so impressed when it turned up. It was so shiny and clean and smelt lovely. What I want to really say is the chauffeur Paul was so nice. I was so nervous yet he told me jokes and made me feel so at ease. Thank you for putting me in a good place and making my wedding day the best ever! I would recommend this service to anyone as it was affordable and they go that extra effort."
"Amazing service, polite and friendly chauffeur made me feel at ease on such a special day. Arrived in excellent time and stayed around after for photos. They have a beautiful 1930 buick which is in excellent shape for its year photos don't do it justice."