Wedding Car for Hire
1930 Buick Model 47
Sedan Series 40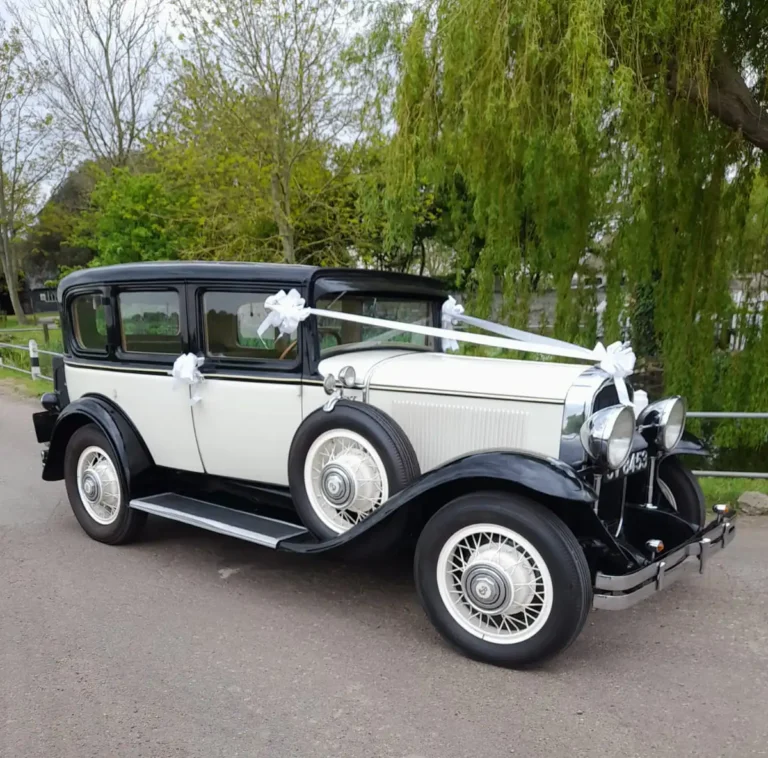 1930 Buick Sedan Model 47 Series 40
Vintage Car Hire
If you are looking for a vintage wedding car for hire in Kent near Medway that will add nostalgia and romance to your day, look no further than our beautiful white 1930s Buick. With its sleek lines, this fabulous four-door car makes an elegant addition as the perfect ride on your big day!
1930 Buick Model 47 Sedan series 40
The Buick Series 40 Sedan is a classic and original car painted in Old English white that is perfect for weddings and other special events.

With its reliable straight 6-cylinder engine, the Buick is a durable and trustworthy automobile.

The car's stylish design is perfect for couples who want a vintage feel for their wedding.

The spacious interior of the Buick makes a comfortable journey and provides ample space for larger groups of family members.

The Buick's chrome details add a touch of luxury to any event.

The Series 40 has a thermostatically controlled shutter system and lowered by 2 inches with an increased length of 118 inches.

This cars powerful engine produces 80 horsepower, making it an exciting experience on your big day!
Buick Model 47 Wedding Car Hire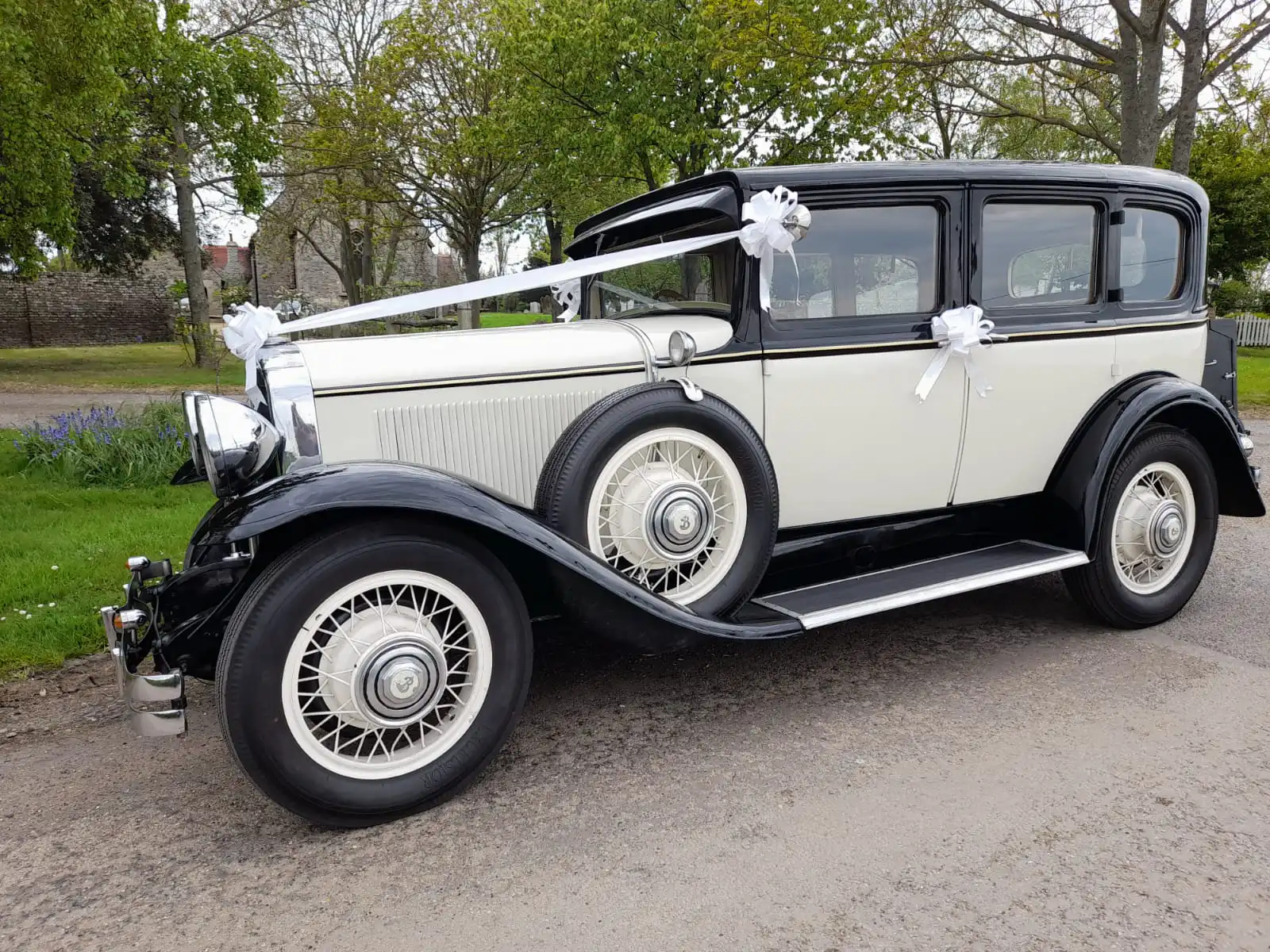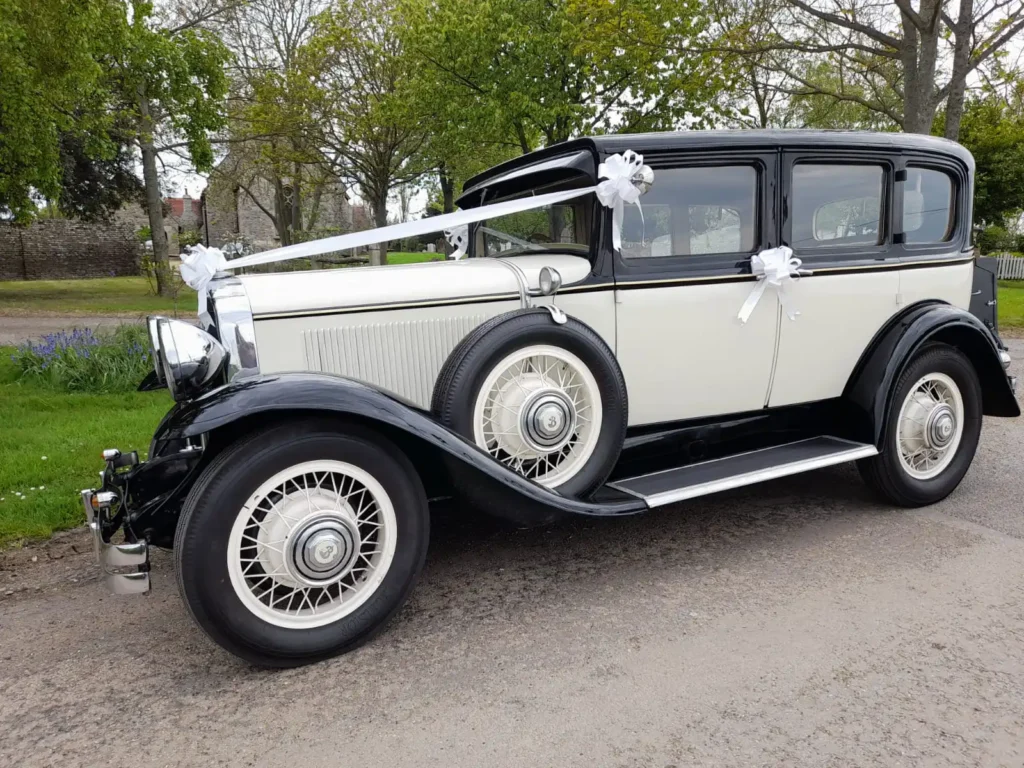 Classic Buick Wedding Car
This Buick Series 40 Model 47 Sedan is the perfect wedding car to add a touch of class to your special event. The Buick will make your event unforgettable with its powerful engine, stylish design, and spacious interior.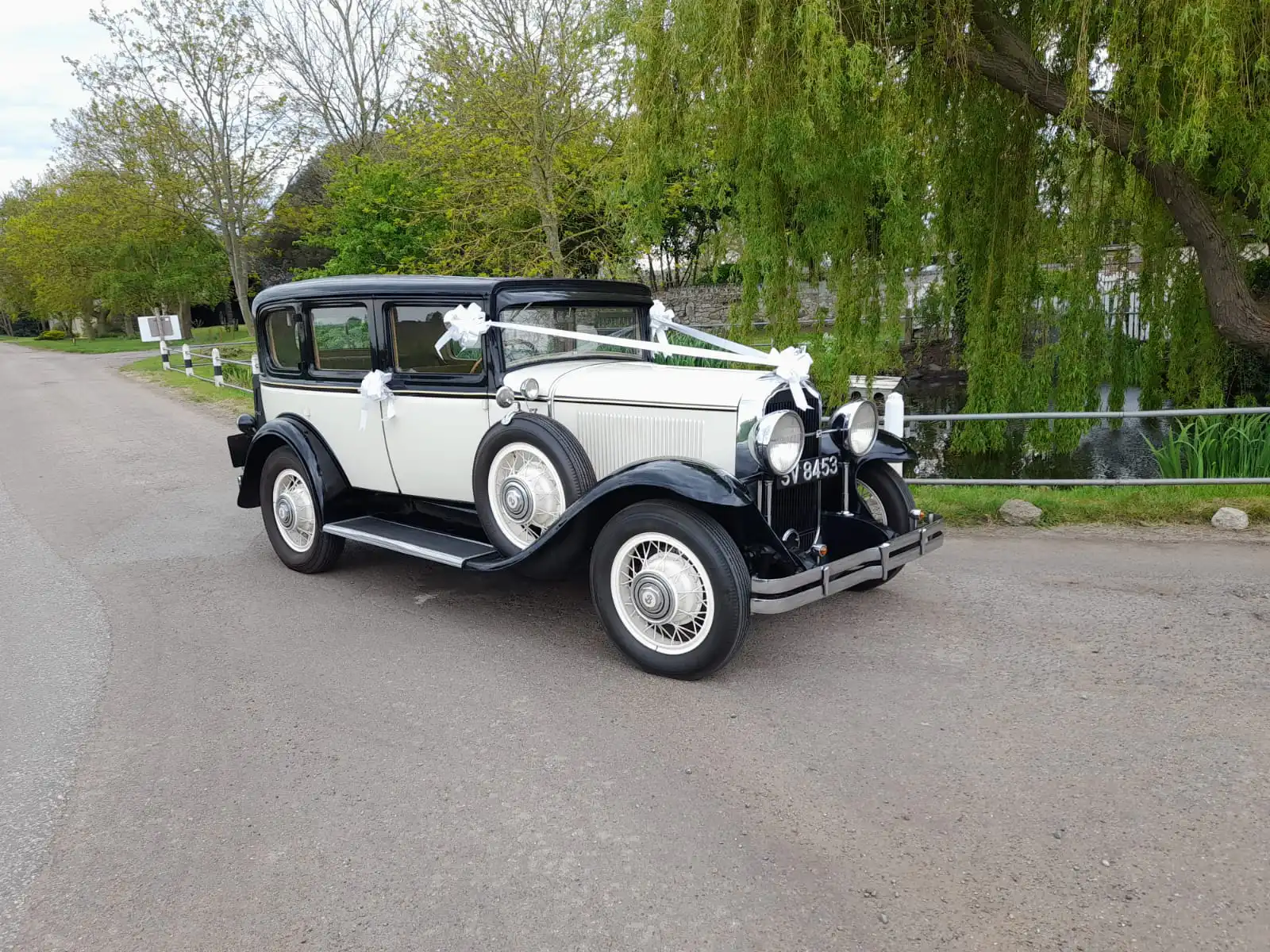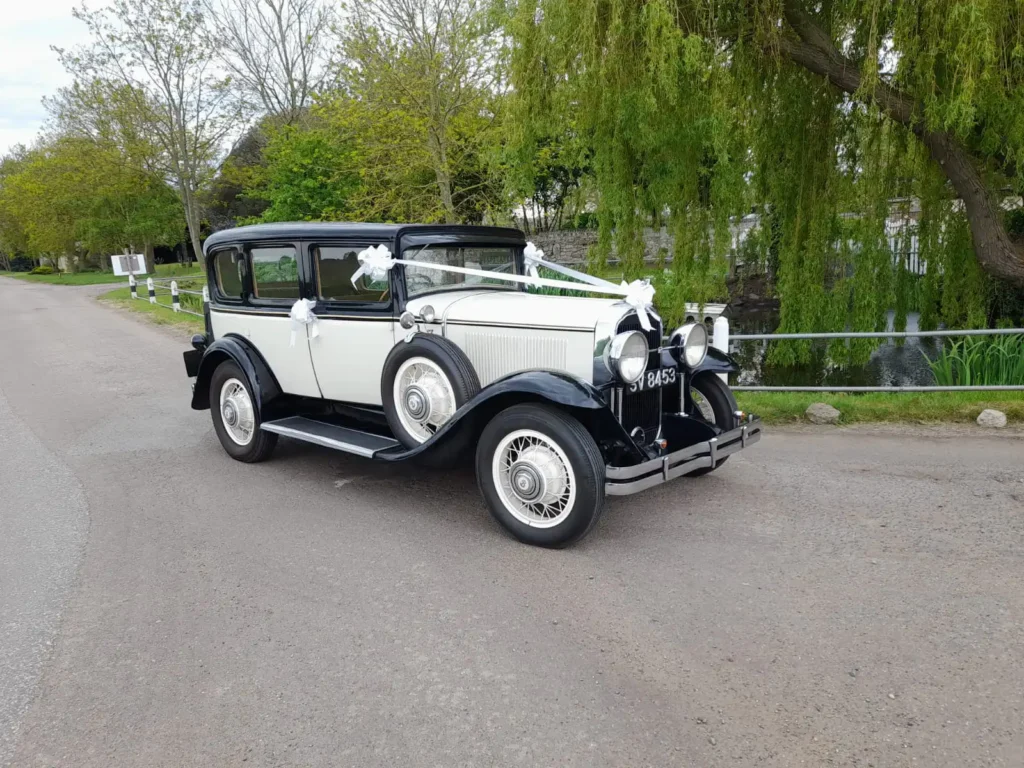 Wedding Day Transport Luxury Bridal Carriage
The Buick Model 47 is a classic and stylish choice for your wedding day. This luxurious car will make a great impression on your guests, its spacious interior gives you plenty of room to celebrate in style. Special Events Hire can provide this beautiful car for your big day, ensuring that the bride or groom arrives in style.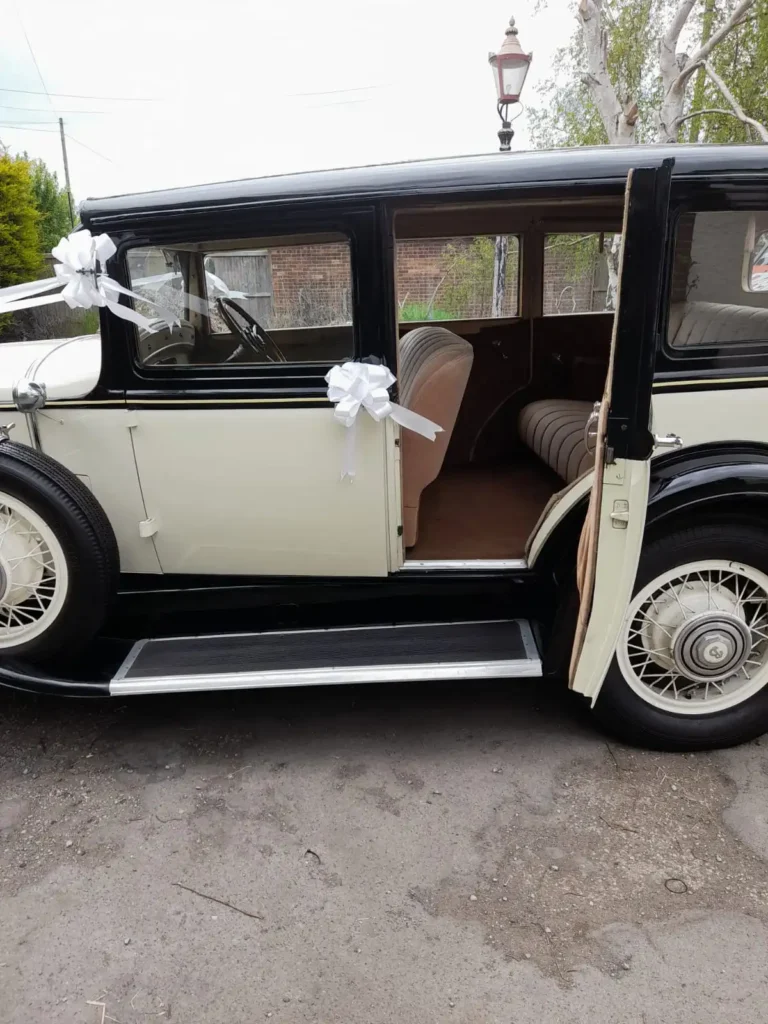 Luxurious Buick Sedan Interior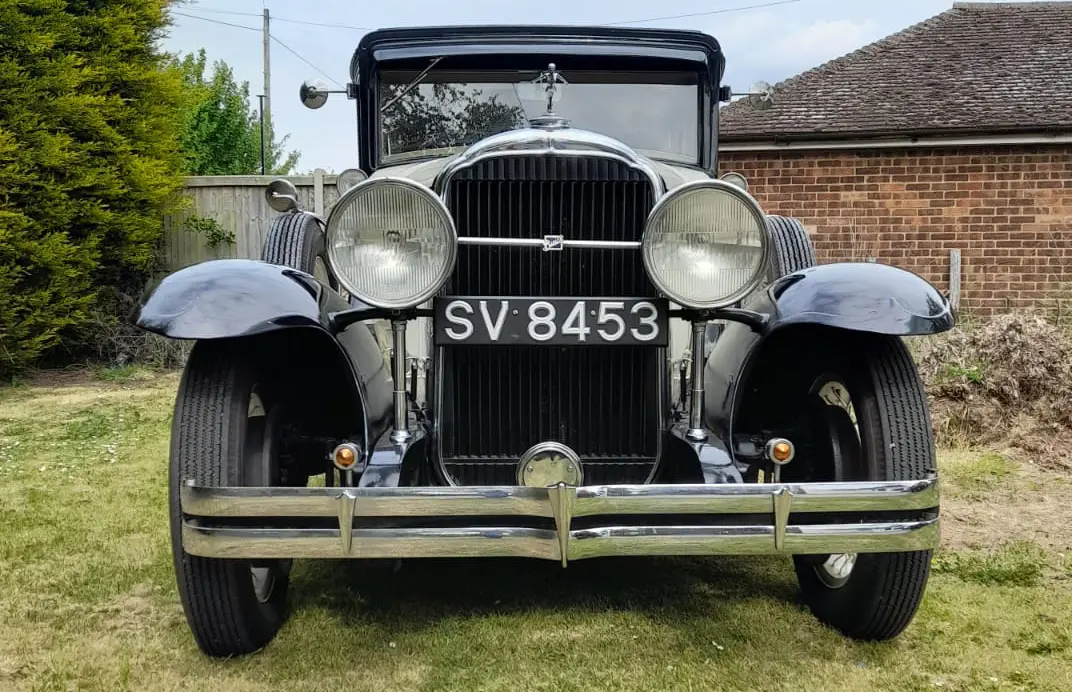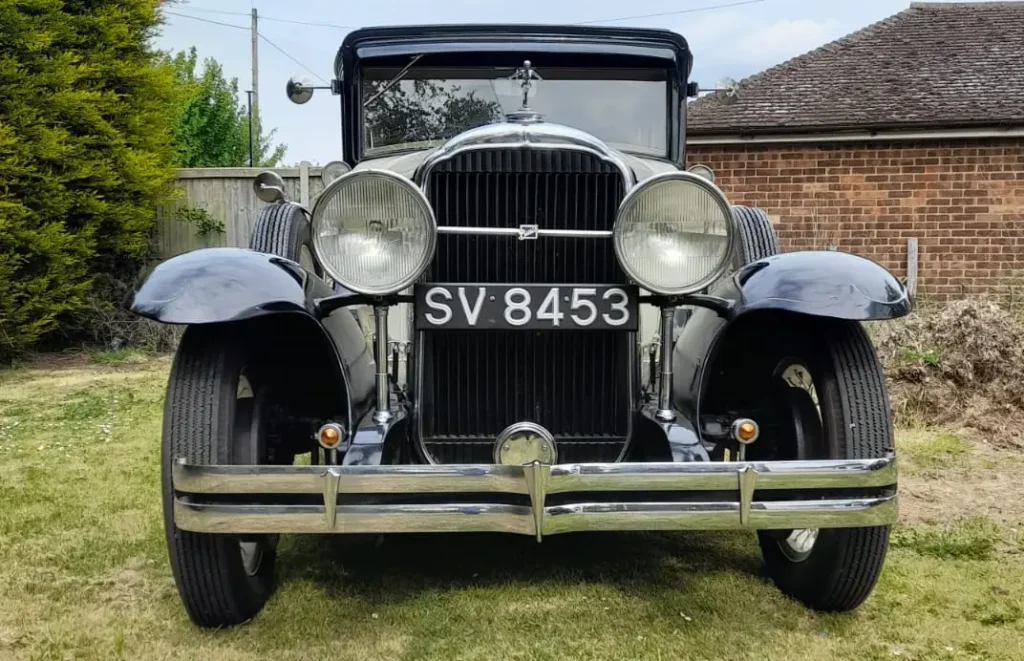 Iconic Classic Wedding Cars of the 1930s
The 1930 Buick Model 40 Sedan was one of the most popular American cars of its time. Its sleek design and powerful engine made it a favourite among celebrities and everyday drivers.

Some of the most famous people to own or drive a Model 40 Sedan include actor James Dean, baseball legend Babe Ruth, and President Franklin D. Roosevelt. Each of these individuals helped to make the Buick Sedan one of the most iconic cars of the 1930s.

Despite its popularity, the Buick Model 40 Sedan was discontinued in 1931 due to the Great Depression. Today, these cars are highly sought-after by collectors and enthusiasts. Thanks to its timeless design and impressive performance, the Buick Sedan remains one of the most beloved cars of all time.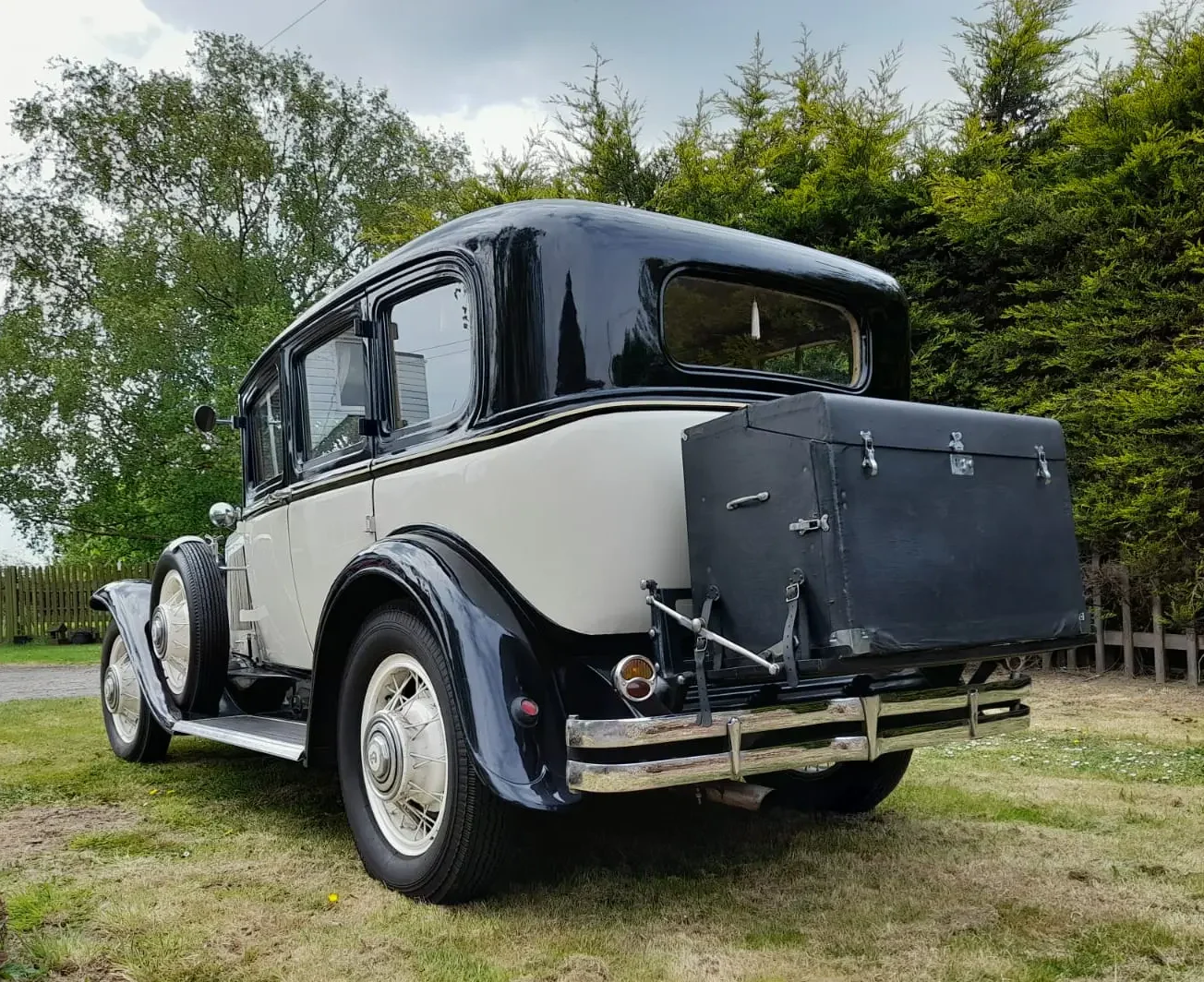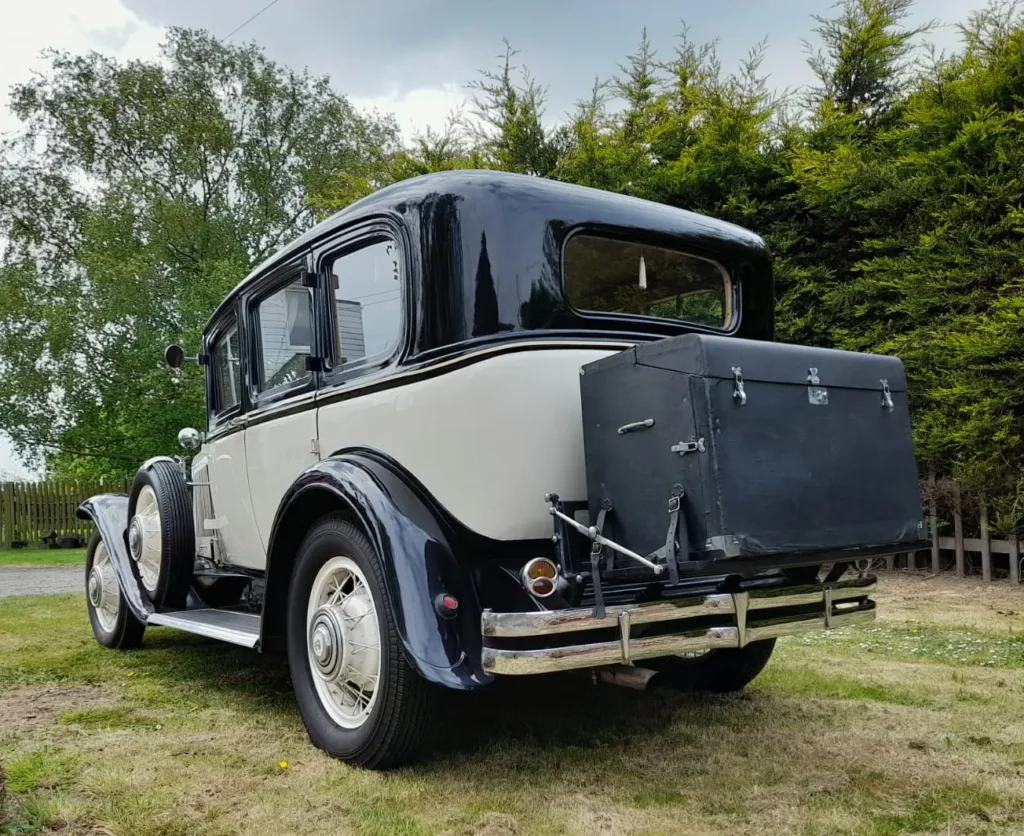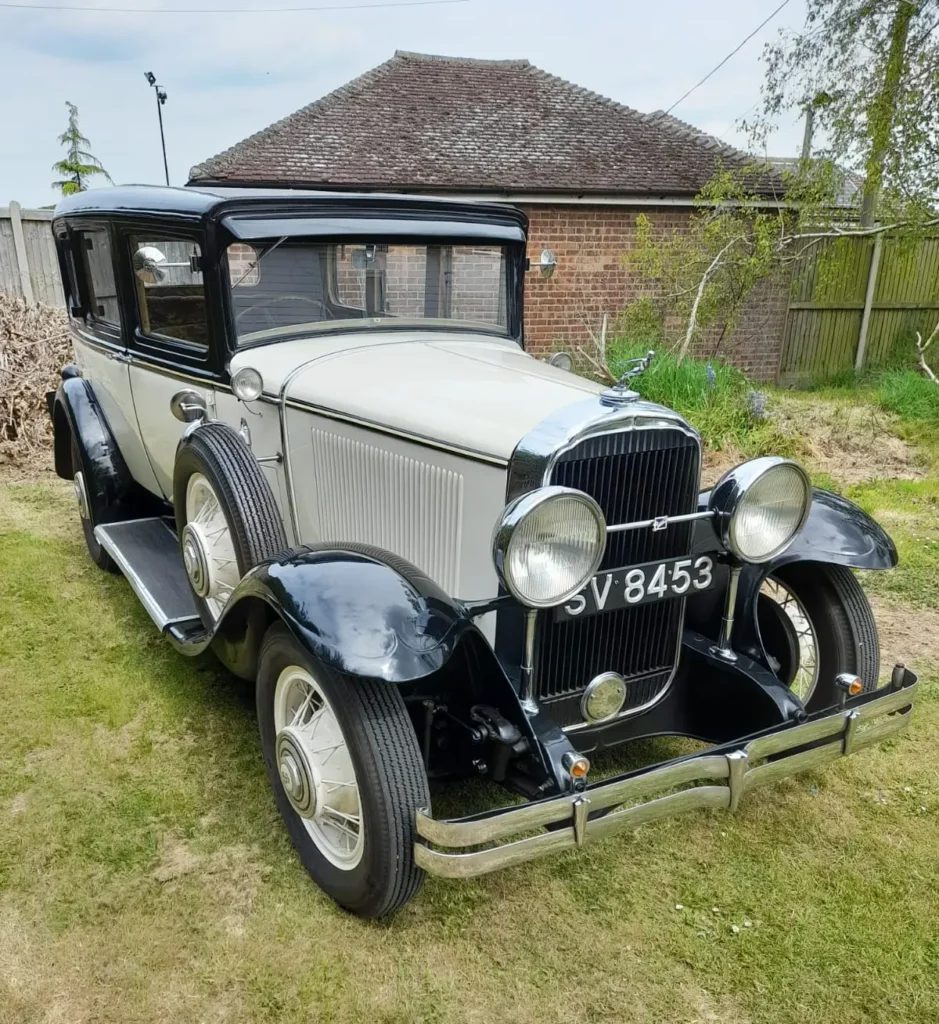 American Classic Car Wedding Rental
This Buick Model 47 Sedan is an authentic vintage American-made car well known for its nineteen twenties styling in the characteristic design of its curves and elegant chrome details.  

These cars were amongst the last of the original Buicks made with the reliable straight 6-cylinder engine. After being manufactured in the United States this Buick was exported to Kunama New South Wales.

Powered by an overhead valve six-cylinder engine this Buick produces 80 horsepower. The Buick Series 40 has a vertically mounted, thermostatically controlled shutter system. The car has been lowered by two inches and the length increased to 118 inches.

This classic American automobile will bring you back to a time of pre-war classic cars.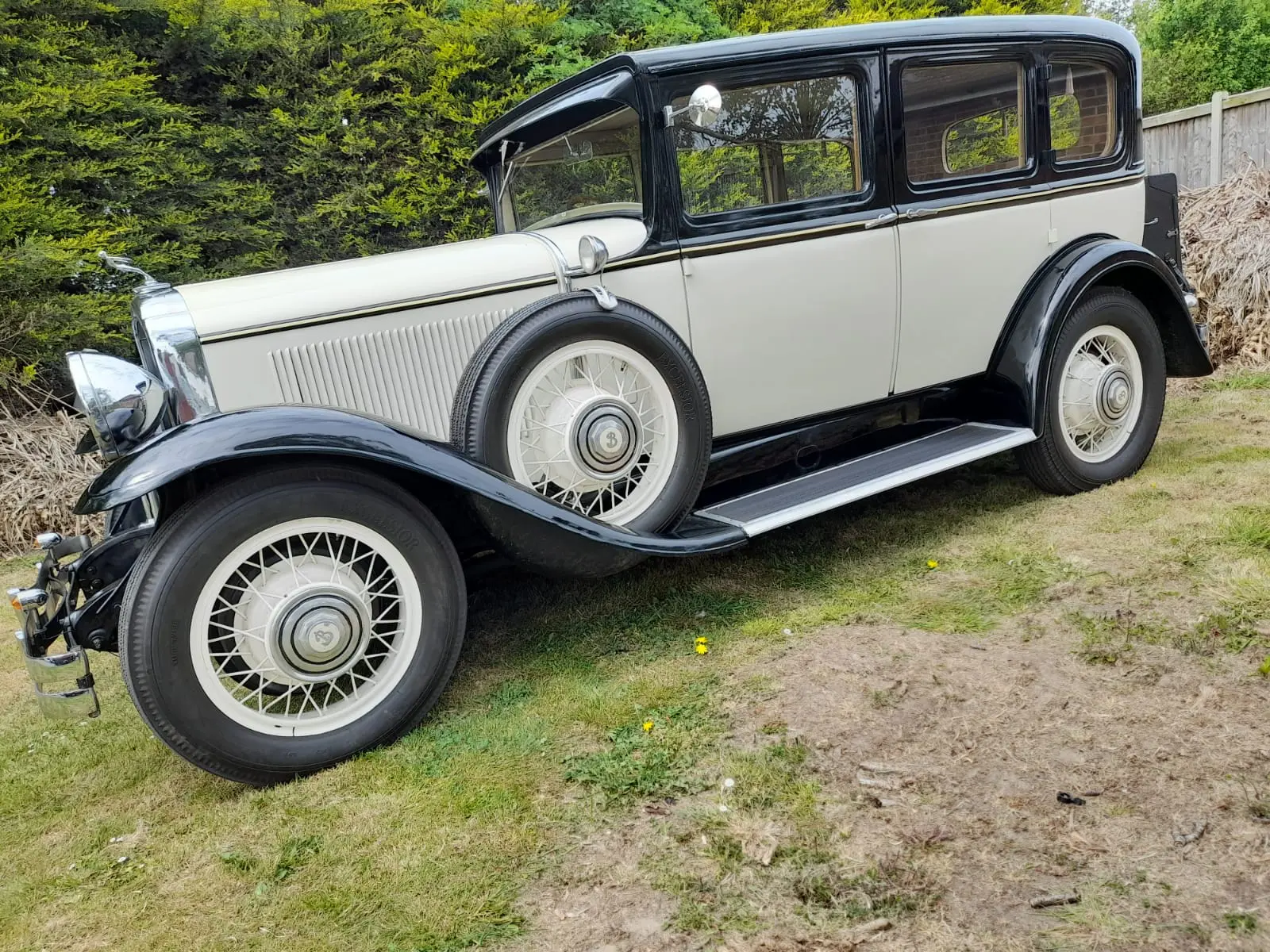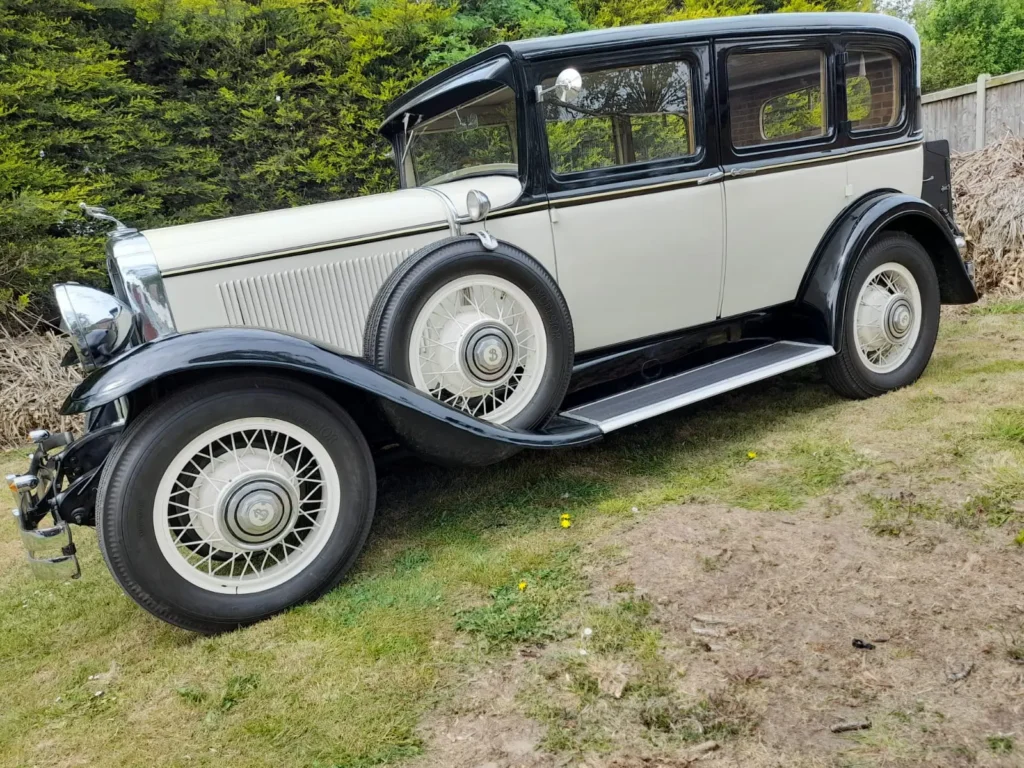 Popular Vintage Cars for Hire
When the Buick Model 47 was first introduced, it quickly became a popular choice for weddings and other special occasions thanks to its luxurious features.

If you're looking for a vintage wedding car that is sure to impress your guests, then the 1930 Buick Model 47 Series 40 Sedan is a popular option.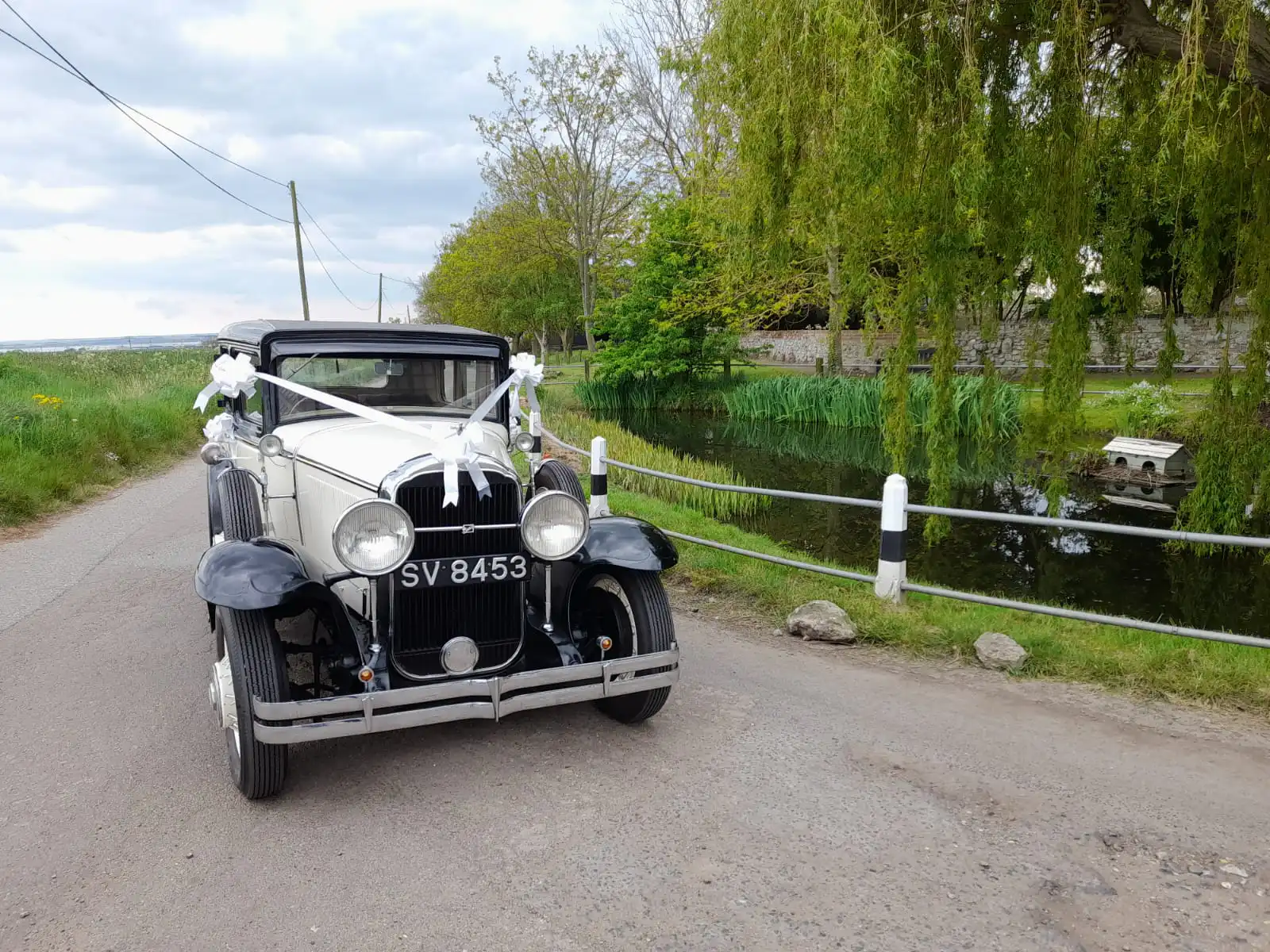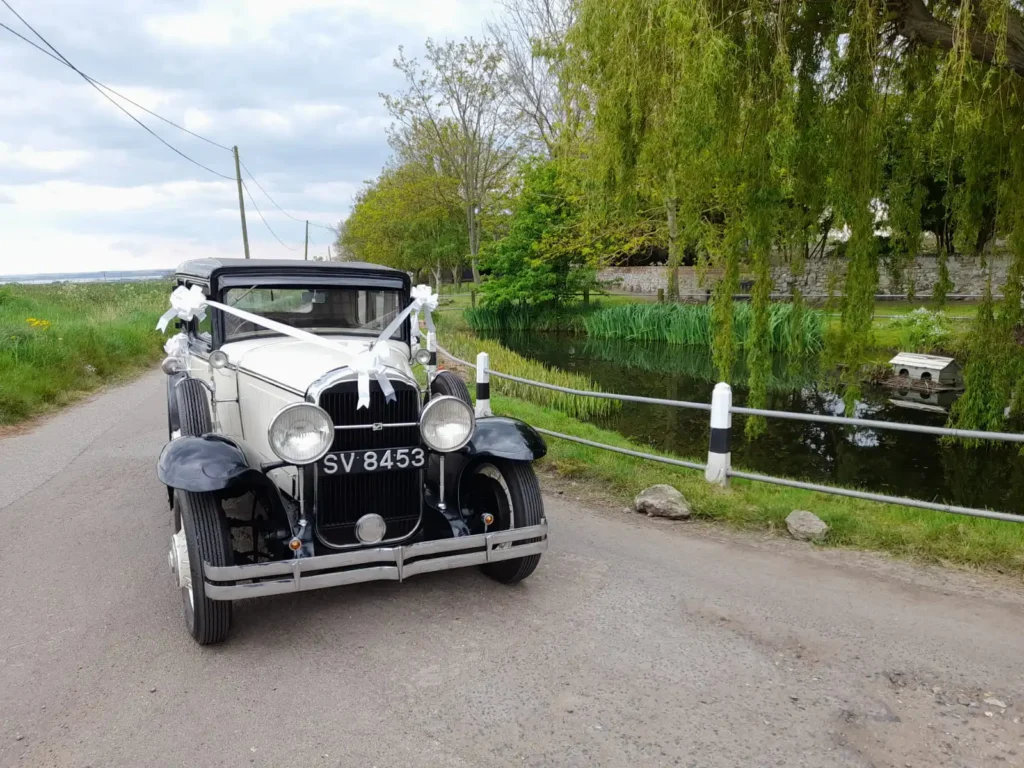 Vintage Wedding Car Hire
The Buick Model 47 series 40 Sedan is the perfect car for your vintage wedding. This classic car will turn heads as you drive down the street. With its sleek lines and elegant design, the Buick Model 47 series 40 Sedan is a true work of art.

This car is more than just a pretty face, though. The Buick Model 47 series 40 Sedan is also a reliable and sturdy car. With its strong engine, this car can handle anything you throw at it. Whether you're driving through city streets or winding country roads, the Buick Sedan will get you where you need to go in style.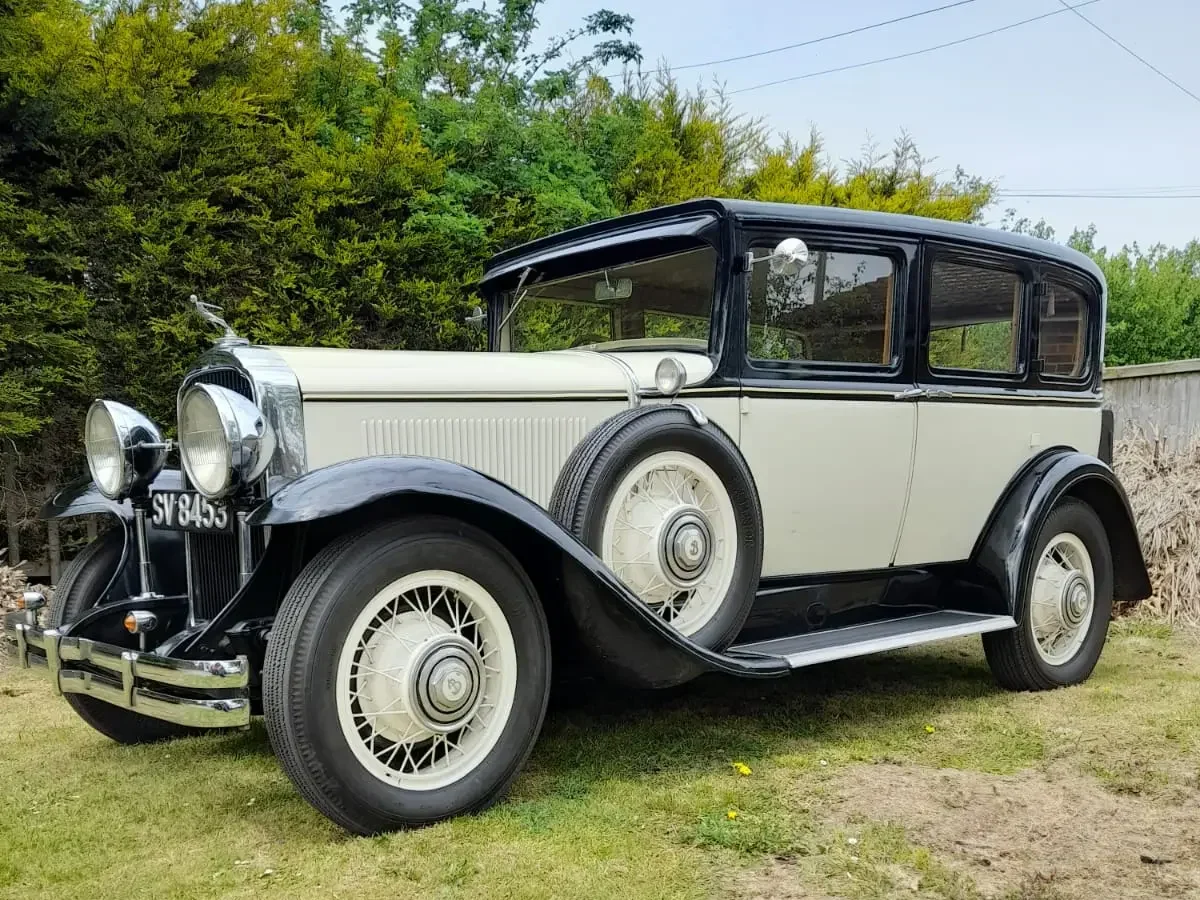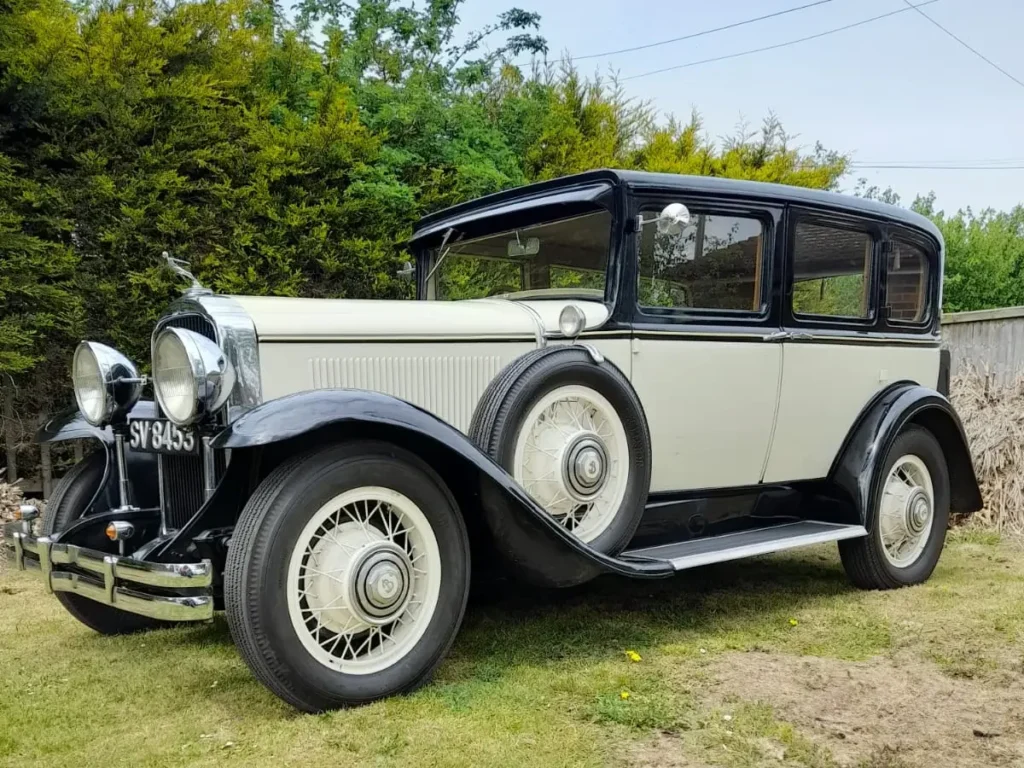 Buick Wedding Cars for Rent
The 1930 Buick Model 47 series 40 Sedan is one of the most luxurious cars of its time. It features a beautiful, spacious interior that is perfect for weddings and other special occasions.

Today, Special Events Hire offers this stunning car for hire so that you can experience a little bit of luxury from the past.

So if you are looking for a wedding car that is both beautiful and reliable, the Buick Sedan is the perfect choice for you. Contact us today to learn more about this fantastic car. We can't wait to help you make your wedding dreams come true.
Special Events Hire Wedding Services Kent
High-quality car rentals and a 5-star wedding service in the Medway and surrounding areas of Kent. Find the most elegant luxury cars in the United Kingdom right here.
Lavish classic bridal cars of the 1930s & 1970s. Hire iconic automobiles from companies including Rolls Royce & Daimler Limousines.
Classic Wedding Car Hire for a Memorable Wedding
When you leave the church or wedding venue in one of our classic wedding cars, your guests will enjoy a spectacular, traditional and classic car show. This is the place where many photos are taken, the pictures which people will remember forever after the wedding.
As you exit the church, you will be greeted by your chauffeur at the entrance of your luxury wedding car. During the journey, you can meet the photographer and take beautiful photographs. These can take place at the many beautiful viewpoints found in Kent UK.
Our team will take care of delivering only the highest quality special events service near you. 
We have the perfect classic style and vintage style transport options to suit everyone in our collection of vehicles.
Find your dream wedding car in our selection of luxury cars. All of our products are available at affordable prices. We specialise in traditional, classic cars and modern cars and unique wedding car designs from Rolls-Royce, Daimler and other brands.
View our available chauffeured cars for hire to find your dream wedding car today.
We do not provide prices online as each special events hire will be specific depending on the destination, reception location and any optional extras or services required.
Contact us today for availability and prices.
Deposit to reserve the date
A deposit of £100 is required prior to the day of your special events hire to reserve the date of your booking.
Special Events Hire is a luxury wedding car hire company that offers exceptional, unique and prestigious vehicles. Affordable and luxurious traditional chauffeur-driven cars from excellent brands such as Daimler, Buick, Audi & Rolls-Royce. Whatever vehicle you desire for your dream car, we are sure to have the perfect wedding car available at competitive rates in Medway Kent, UK.
The provider you can trust
All of our wedding cars are meticulously maintained to the highest standard in the UK. All of vehicles receive regular servicing and are fully insured and MOT certified.
All cars booked with us are chauffeured by an experienced smartly dressed driver.
In case of any problems with our cars on the day of your event, we guarantee to provide a backup vehicle with no effect to the itinerary agreed upon. Decorated in matching ribbons and bows, polished & ready to ensure you arrive on time & in full splendour if anything were to happen.
Make your special event unforgettable and arrive in a stylish Luxury Chauffeur Driven Carriage
"Special events made my wedding day perfect. We hired the silver shadow rolls Royce for our wedding car . I was so impressed when it turned up. It was so shiny and clean and smelt lovely. What I want to really say is the chauffeur Paul was so nice. I was so nervous yet he told me jokes and made me feel so at ease. Thank you for putting me in a good place and making my wedding day the best ever! I would recommend this service to anyone as it was affordable and they go that extra effort."
"Amazing service, polite and friendly chauffeur made me feel at ease on such a special day. Arrived in excellent time and stayed around after for photos. They have a beautiful 1930 buick which is in excellent shape for its year photos don't do it justice."
Frequently Asked Questions
Our most popular wedding cars is the Buick Sedan and our Rolls Silver Silver Shadow II.
Unfortunately, we do not offer prom car hire. This service requires professional licensing to comply with the Road Safety Act 2006. Anyone offering any vehicle to carry passengers without the proper licensing risks prosecution, impoundment of the vehicle or crushing of the vehicle. Professional licensing is required in order to offer this service legally and safely.
The Bride travels to the ceremony accompanied by her Father or another person who will give her away. Most couples choose a second car to carry the Brides Mother and Bridesmaids. The Groom usually arrives with his Best Man or Ushers, and can also choose a luxury wedding car to arrive in.
The sooner you reserve an automobile for your wedding, it will help make it easier for the day. Often popular cars are booked more than a year ahead which is good for preparation.
Blue invokes power and significance and reveals that an ideal wedding car should always be the car everybody should see and just what everyone wants! Blue can be regal and elegant and a very versatile choice when choosing colours.
Our Buick exudes comfort in its styling and build.